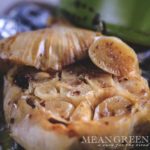 Oven Roasted Garlic
Oven Roasted Garlic, straight from your own oven. Silky and rich in flavor, roasting brings a mellow attitude to this otherwise pungent bulb. It's a great secret weapon for adding complex flavor to many dishes.
Total Time
1
hour
5
minutes
One or more whole heads of garlic

extra virgin olive oil

Generous Pour

kosher sea salt

fresh red and/or black cracked pepper
Preheat your oven to 400°F (205° C). (A toaster oven works great for this.)

Peel and discard the loose papery outer layers of the whole garlic bulb.

Using a sharp knife, cut 1/4 to a 1/2 inch from the top of cloves, exposing the individual cloves of garlic.

Place the garlic on a large square of heavy-duty aluminum foil, enough to be able to wrap the head fully.

Drizzle with olive oil: Drizzle a generous pour of extra virgin olive oil over each exposed head, using your fingers to rub the olive oil over all the cut, exposed garlic cloves.

Sprinkle with Kosher Sea Salt and Fresh Red or Black Cracked Pepper.

Wrap head with the foil it's sitting in, place in a ceramic baking dish or garlic roaster as pictured.

Bake at 400°F/205°C for 50-60 minutes, or until the cloves are lightly browned and soft when squeezed.

Cool and remove roasted garlic cloves from their skins: Allow the garlic to cool enough so you can touch it without burning yourself. Slip cloves out of their skins, carefully, with a sharp knife or squeeze out with your fingers.
Prep times are approximate.
Store Oven Roasted Garlic in an airtight container, covered with extra virgin olive oil. Keep the oil-packed cloves in the refrigerator up to a week.
To freeze cloves, spread out on a baking tray and place into the freezer.  After they freeze, store in a sealed zip bag or container up to 6 months.